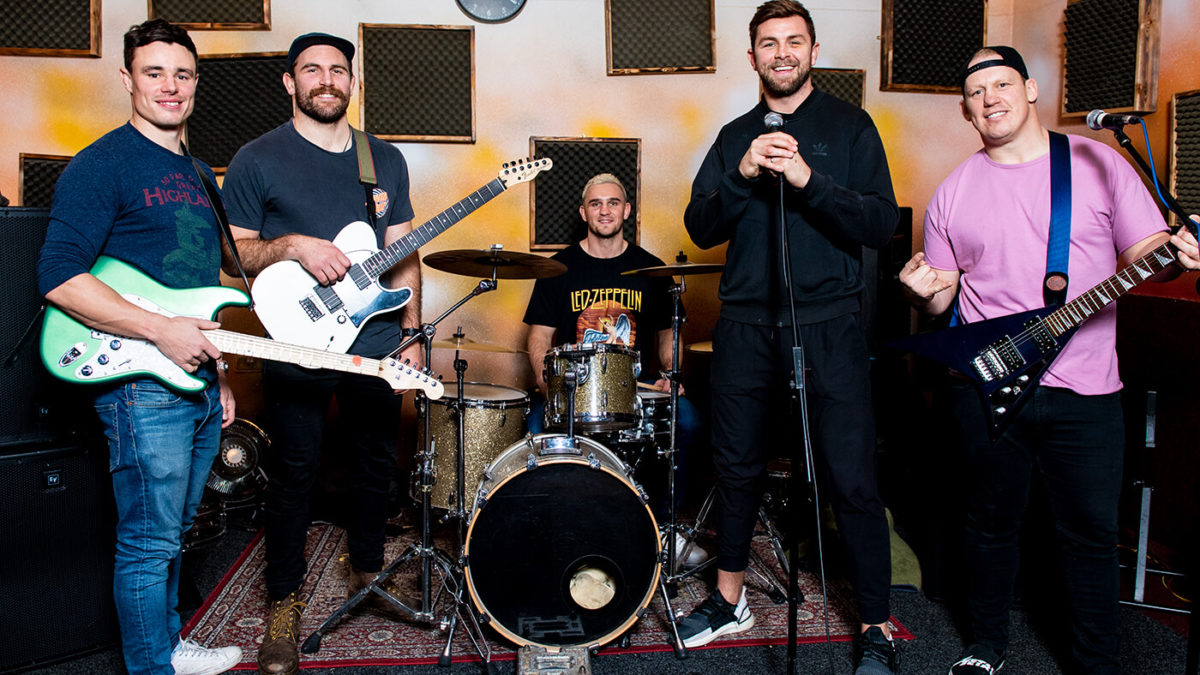 Jones hits the high notes off the rugby field
It's probably safe to say that the stage of the Glasgow Hard Rock Cafe hasn't often been the graced by elite athletes, but that all changed on Saturday 15 February 2020, when rugby stars Petrus du Plessis, Callum Gibbins, Ryan Wilson, Adam Ashe and Selkirk's Lee Jones took to the stage for a one-off charity gig.
All five are members of the 2019 Guinness Pro14 runners-up Glasgow Warriors, and have bonded over their shared love of playing music. The decision was made last year for the players to get together and form a band, with du Plessis, Jones and Wilson sharing the guitar duties.
"We started the band with the idea in mind to do something for charity," says Petrus, who won two Premiership titles at Saracens and is now player-coach at the Warriors. "With the Glasgow Children's Hospital Charity as our official charity partner, it was a no-brainer to put this show on to raise money for them. We'll also be doing some further fundraising on the night with some great prizes on offer."
Lee came through the ranks at Selkirk Rugby, having played for the Rhinos right through to the senior XV. And now for this one-off performance, the Scotland international would be swapping a tackle bag for a gigbag.
Lee, who attended Knowepark Primary and Selkirk High School added "I was in high school, probably about 15 or 16, I started playing a bit of guitar at school and then got a guitar at home, and kinda went from there! It's funny looking back, because nowadays everything is done online – if you want to learn a song you go to YouTube and whatnot. The other day, one of the younger boys here was asking, 'How did you learn songs and all that when you first picked up the guitar – was it YouTube?' I was like, 'Nah mate, we just had the internet – I was buying tab books!'.
"Me and a few mates would hang out in one of their dad's basements and play music together a couple of nights a week. But then, like Petrus, rugby has meant that I've been on and off with it since then."
Lee, who's career at Philiphaugh propelled him into professional rugby added "I've actually built myself a guitar, just recently. It's a Strat-shaped thing with a humbucker in the bridge. I didn't even know you could just build a guitar yourself until one of the boys in the band, Callum Gibbins, mentioned that he'd built a couple. So I went online and had a look at it and the next thing I knew I was ordering parts! So over the course of three months, I got all the parts, built it, painted it, wired it… and it actually sounds alright!"
Lee who has a sausage named after him in his local butchers where he once worked remarked "The night at the Cafe was a great success with the main aim of raising money for our chosen charity, the Glasgow Children's Hospital benefiting from our performance, so very worthwhile indeed".
Here's wishing Souter Lee all the best for the future and who knows he may just become a music star after his rugby career is over exchanging big hits on the rugby field for big hits in the charts.