Town Trade Tradition
Selkirk, a town with heritage, culture and tradition and at heart, a strong and caring community.
Selkirk Common Riding
Selkirk is one of the oldest Royal Burghs in Scotland and granted land in 1113 by King David I. We've been making our mark ever since. The decision has now been made to cancel the 2020 Selkirk Common Riding with the current situation, but keep up to date here with future plans.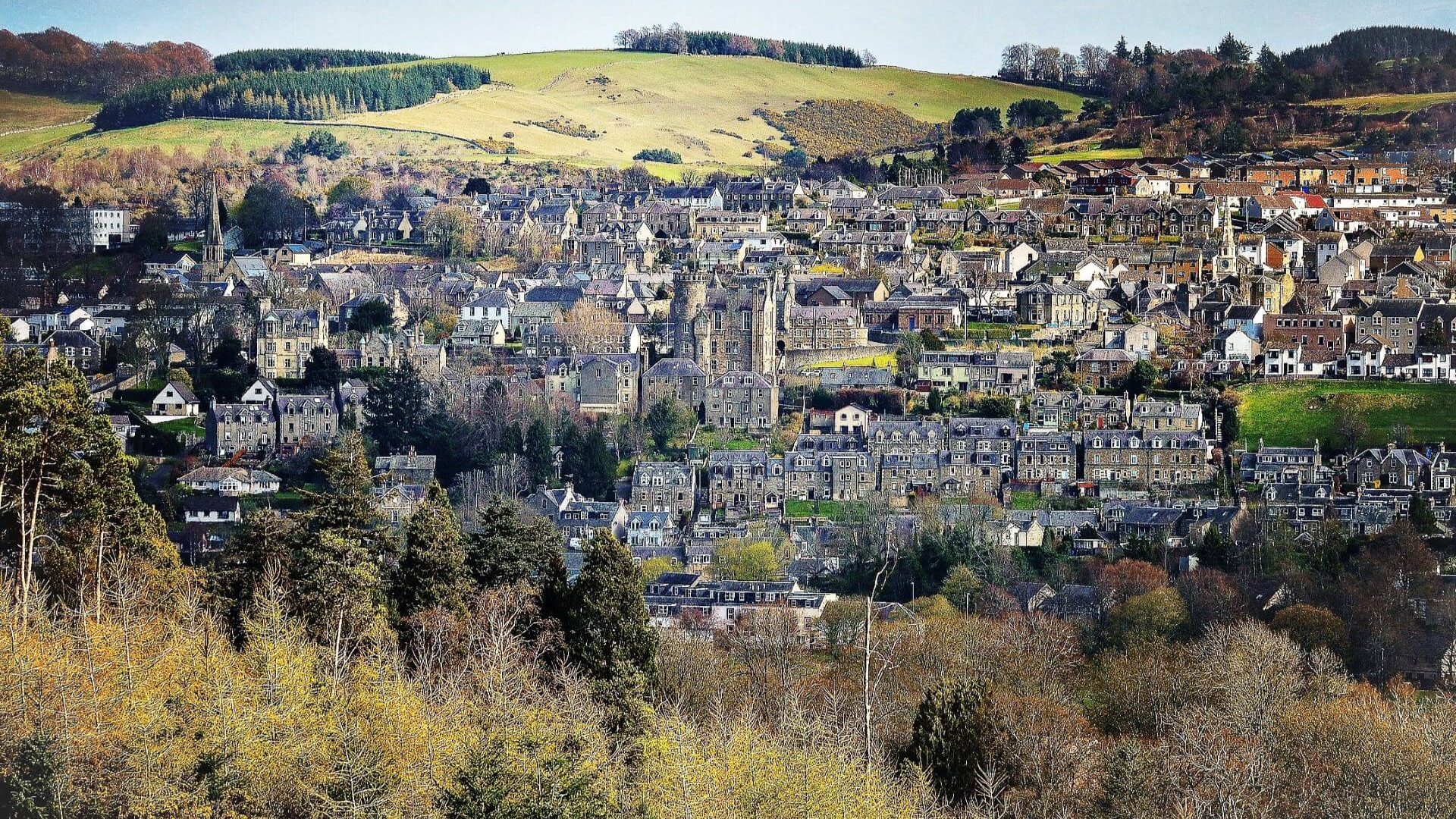 A town that has inspired
Selkirk has welcomed many great artists and writers over the years, others have called Selkirk their home. Take a glance at why Selkirk has captured the heart of many.
Visit Us
Selkirk's position as a bustling hill town at the crossroads of the Borders means that it is always a convenient place to stop, whether you were born in the Borders, or visiting for the first time. Its unique position on the main north South route between Edinburgh and Carlisle, but also at the gateway to the Ettrick and Yarrow valleys, means that it is a vital staging point for journeys that start and end here. Selkirk still maintains its proud traditions, whether hosting the annual Common Riding, taking on all comers with its many sports teams, or providing traditional services in its historic High Street, but it also has much to offer the modern shopper or traveller, if you spare time to take a look. The Explore Selkirk website aims to help you navigate your way around the many aspects of our Royal Town, so stay awhile, check out the menu and allow us to guide you through the many facilities and options that our town has for you.
Explore
Come and explore our rich history and traditions and a rolling landscape that is waiting to be enjoyed by foot, by pedal or by horse. Selkirk is a thriving town perched above the beautiful Ettrick and Yarrow Valleys and an excellent location to explore the beautiful Scottish Borders. There's plenty to do, so make sure you visit and give yourselves plenty of time to enjoy it.
Heritage
A proud town, Selkirk sits above the surrounding river valleys – in the past an ideal location to defend, now it offers wonderful views. The name Selkirk is probably of Anglo-Saxon origin but may stretch as far back as Roman times. A royal castle was located on Peel Hill in the 12th century and then grew eastwards towards the Auld Kirk. You can travel back in time to learn about our literary stars, our proud traditions of weaving or our romantic customs of Common Ridings.
Culture
Our culture and traditions are still at the very heart of our town. Come and learn about Sir Walter Scott who popularised tartan and then visit a mill where the cloth is still produced today by local craftspeople. Hear about our folklore and ballads and then enjoy the local music in the pub at night, perhaps with a locally produced beer, gin or juice in hand as you tap your feet.
Food & Drink
Whether you're planning to catch up with friends over coffee or a lunch, refuel after a walk in our stunning surroundings, or enjoy a romantic meal for two, Selkirk has it covered. If you're wondering where to eat, then rest assured, we have a wonderful array of Restaurants, Cafes, Coffee Shops and Takeaways to suit every occasion - come and see for yourself what we have to offer. We may be a small Town, however, we have delightful eateries and welcoming service with a smile to compete with the best of them - we even have The Best Eatery in The Borders!
Community
Selkirk is a small town with a close community but for its size, Selkirk has a surprising number of businesses and services that can bring a jolly bustle about the town. From the very old traditions of Souter (shoe repairer) and a dress maker to hairdressers and barbers, vets, chiropodists, surveyors and estate agents – well you might love it so much that you decide to stay! All are very welcoming and if they can't help, they will certainly be able to suggest someone that can.
Shopping
Selkirk offers a range of independent shops for visitors and locals alike. We're proud of our traditional market town, right in the middle of the Scottish Borders, and we're sure you'll like it too! We have a monthly farmers market in the centre of town: the Market Place, with a great range of food and produce. Join us on the first Saturday of every month from 9am to 1.30pm.